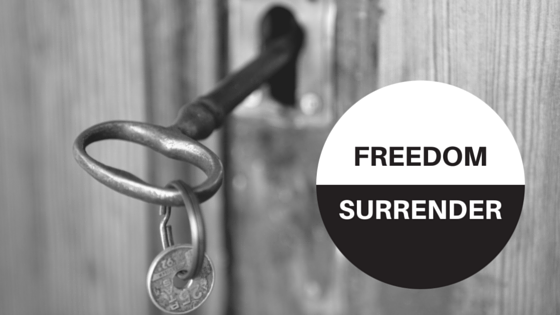 In actuality freedom is not the opposite, or in tension with, surrender. They are in essence one and the same.
Total surrender brings complete freedom.
The same question surfaces again; surrender to what, to whom?
Great question isn't it?
If the idea of surrender sounds intriguing, or perhaps holds a promise of some freedom, let's look first at what hasn't worked.
We know through historical observation that surrender to our lusts and desires doesn't bring about freedom.
In fact the opposite is true. The more opportunity we have to pursue fleshly desires, the more bondage is created.
Instead of the freedom they promise, we become enslaved to our desires.
The more we get, the worse it becomes.
Some of the richest, most famous and most powerful people become the most corrupt and morally bankrupt, and are so disillusioned with their lives that they choose to end them. Isn't that crazy? Those that have achieved a level of success that so many others desire are the most miserable.
The climb up the mountain of power only leads to a greater fall.
The Bible tells us that to have complete freedom we must have total surrender.
Galatians 2:20 says 'My old self has been crucified with Christ. It is no longer I who live, but Christ lives in me.' NLT
Surrender is a step by step, moment to moment daily surrender to our desires in exchange for God's desires.

I experienced this as I was going through my cancer diagnosis and the lead up to my surgery. I experienced times of fear, frustration, anger, sadness; you name it, I lived it.

I was in bondage. Until I surrendered the process to Christ, peace was elusive. But once I was able to get over myself and acknowledge that God was in control, I experienced freedom.

I found freedom once I surrendered to Christ in me.

It wasn't easy. I ultimately determined that I had a choice to make.

I had to choose one of two four letter words. Fear or Free. Which was it going to be?


In my own strength, un-surrendered, I fell back to fear.
Oh I could muster up some courage for a period of time but then the vail of fear would come down. But when I was actively surrendered to Christ I was free.

What does that look like practically?

Here is what I wrote down in my journal this morning. It's a second by second, minute by minute, hour by hour, 24 hour per day commitment to talk to God, listen to God and obey God.

God what do you want me to do? What do you want me to say? Where do you want me to go?

It's one focus. Not volume, not money, not a long life, not performance, not family.

One focus: God's love.

With one focus my master takes care of everything.

That is freedom. Surrender everything because God sacrificed everything for me.
John 3:16 "For this is how God loved the world: He gave his one and only Son, so that everyone who believes in him will not perish but have eternal life." NLT

Is it time to start laying down your own agenda? Is it time to surrender and be set free?

It is a step by step process.
Take one step today away from bondage and towards freedom. Do one small thing to put a boundary on your desires. Surrender one thing to God and you will at the same time take one big step towards intimacy with God and freedom for yourself.


What is that one step for you? No matter how small, commit to taking that one step today.

Coach Yurij