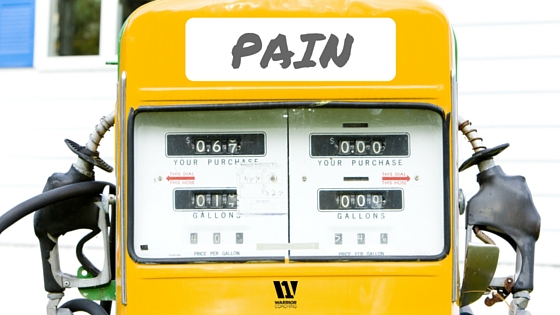 We spend most of our lives trying to avoid pain and playing it safe, yet
pain and suffering are what lead to transformation
.
Have you ever prayed for God to
remove the pain?
I know I have.
There are many examples but one that stands out is the self inflicted pain and suffering of Ironman training and racing.
I remember many long interval training sessions (which tend to be the most painful) questioning my own sanity and desperately asking God to remove the pain of the training.
That prayer was never answered.
Then I started praying a more relevant prayer: God, help me to suffer well through the training. That prayer was much more successful.
First we have to come to grips with the fact that pain and suffering and sorrow will happen. It is a certain fact of life.
Pain and suffering and sorrow have happened to all of us. Yet it is how we deal with it that shapes us and grows us.

Even though pain and suffering are a fact of life, shouldn't we try to minimize and avoid it if possible? Why look for pain when it seems to find us on it's own on any given day?
Some of you are old enough to remember the old full service gas stations with the gas attendants that would pump your gas for you. You would just pull up to the pump, crank down the window and yell "fill 'er up!" Not many of us want to "fill 'er' up" at the pain, suffering, and sorrow pump!
Instead, we go to God and yell "give me 5 bucks of low test please." Translation: "Give me as little pain and suffering as possible please!"

Oswald Chambers says that "Sorrow removes a great deal of personal shallowness." Suffering and sorrow cause us to come to the end of ourselves and help us to become reliant on God.
In that hour we find out what we are made of and it helps to clarify our purpose. It helps us to get beyond ourselves and shows us where we can serve.

Chambers also states that "You cannot find or receive yourself in success, because you lose your head over pride. And you cannot receive yourself through the monotony of your daily life because you give into complaining. The only way to find yourself is in the fires of sorrow."

The next time you encounter pain, suffering, and sorrow, instead of praying to have God remove it, pray for God to help you through it. Know that you are being shaped into who God wants you to be.

God uses all circumstances for good and whatever you learn in the fire he will use in the service of others.

If your marriage is in trouble, who would you rather talk to, someone who has gone through it themselves or someone that is happily single?
Getting business advice for your failing business from someone that has been there, has fought the same fight and has won battles in the trenches is pure gold!

Whatever God has you in right now or has brought you through in the past, He will use it to serve others!

Train in the pain.

Coach Yurij