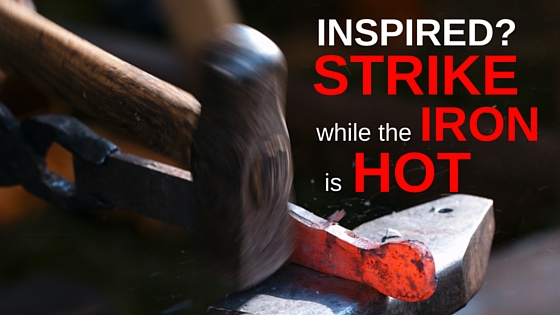 Ever been to a seminar where you were all charged up to make changes and move your life in a fresh new direction and then come Monday nothing changes?
Just like in the movie Groundhog Day where the lead actor Bill Murray keeps reliving the same day over and over again, our
entire lives
can be like that unless we
break the cycle.
"INSPIRATION is like fresh fruit or milk: It has an EXPIRATION DATE."*
To avoid Groundhog Day it is critical to take immediate action.
From the moment of inspiration
we must
immediately create a Gap project
, write down the first Pringle step and do it ASAP.
I mean
right away
. Before you even get home you must get some traction somewhere.
Next, to make sure this thing has a life that continues, get it into your Warrior Way 90 Day and then get to work!
While you are inspired you can get so much more done.
Try to carve out as many hours as possible over the next couple of days to really work the plan.

When your brain and heart are inspired you can get an entire project done in record time.

That's it, short and sweet.
Less is more. Get to work.

Coach Yurij

*Rework. Fried and Hansson.