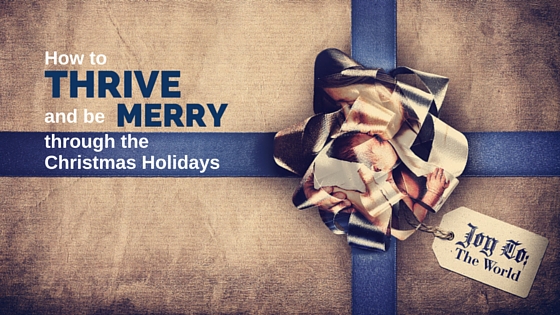 Here are some suggestions on how to thrive and be Merry throughout the Christmas holidays.
1.
Prepare your heart
for Christmas by doing a daily Advent reading throughout the month of December leading up to the celebration of the birth of Jesus.
There are dozens of great Advent devotionals. I am going through John Piper's "The Dawning of Indestructible Joy". Marie is reading Ann Voskamp's "The Greatest Gift".
Both different, both excellent.
2. When visiting family
commit to being flexible
.
Warrior families tend to be outside the norm in several categories (in a good way!).
What we eat and drink, when we go to sleep and when we get up, how much we exercise etc. tend to seem a bit 'extreme' to the average non- Warrior family member.
When travelling to other people's homes, be willing to change your routine somewhat. You can skip the 4 hour ride on the trainer on Christmas day!
Stay up a little later to connect with family and be flexible in how your morning time might work.

Bend but don't break
.
Go in with a
game plan
on how you want to deal with the following;
a.
Eating and drinking
. You have been disciplined all year and don't want to let the Christmas season ruin your efforts.
Try one of these strategies: allow yourself to modify your diet but keep one or two solid double yellow lines. You can eat a double portion of turkey dinner with stuffing and all the fixings but you will limit yourself to one cookie.
Set your limit on how much alcohol you will have ahead of time.
Give yourself a cheat day.
Whatever your strategy may be, go in prepared.
b.
Exercise
. Create a workout schedule for the holidays.
If you are travelling, then you are probably going to have to modify things quite a bit because your equipment is going to change.
Number one rule is
pack your running shoes
. Nothing is quicker, easier, and more effective than a quick run (or even a walk) to get the blood flowing and burning some calories.
Check out the local gyms ahead of time, find out their hours and plan your workouts.
Recruit family members to workout with you! Grab your out of shape brother in law and go to the gym together.
c.
Sleep.
Try to stay on schedule as much as possible before you travel.
It's easy to start staying up later and losing a few hours here and there earlier in the month and enter into the final week of Christmas pre-exhausted.
Resist that. When you have social functions during the month of December keep to your schedule as much as possible (getting to bed at midnight is still much better than 2 in the morning).
If you have a late night, have a 20 minute power nap the next day.
3.
Put on your thick skin
.
Families know how to push your buttons. Your siblings, parents and in-laws all have a history with you.
There are great memories but also a few wounds that may be close to the surface.
Go in prepared knowing that being 'home' with family may trigger some old memories and some unwanted behaviour patterns.
Focus on being in your new name. Let the 'helpful' comments your parents make slide off this year. You don't need to react. Respond with love.
As you can see it all looks fairly easy. As soon as holiday fever hits, common sense isn't so common and self discipline becomes an oxymoron.
Don't make the mistake of thinking that you got this. Don't go in without a plan. You may survive but you won't thrive.
I'll finish where I started.
Prepare your heart for Jesus.
Cherish your morning time more than ever as we prepare to celebrate the birth of our Lord.

"The birth of Christ is the central event in the history of the earth. The very thing the whole story has been about." C.S. Lewis

"A prison cell, in which one waits, hopes...and is completely dependent on the fact that the door of freedom has to opened from the outside, is not a bad picture of Advent." Dietrich Bonhoeffer

Coach Yurij