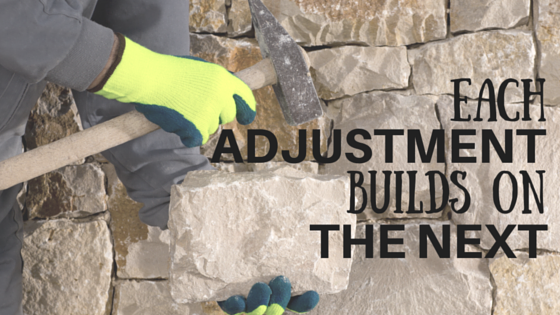 Wow God is good!
I have this amazing clutch of people that come in for their adjustments on Tuesday at 3:30.
It's my first adjustment time of the afternoon and the reception area begins to fill up at around 3.
By the time I'm ready to start adjusting, the place is packed and humming along as everyone is visiting and talking.
The conversations continue as people flow from reception to the hot seats to the adjustment tables.
Many of the people know each other because they were friends before and referred each other to my practice.
Many started care because of our Christmas Card Campaign outreach program. The rest became friends from being patients.
Since most healing takes time and frequency they have been coming for their adjustments for months, years, and some for decades.
This story is about two amazing older ladies that started care in January of this year.
They were both referred by one couple in my practice with a Christmas card.
Both patients were experiencing severe symptoms which were greatly hampering their quality of life.
One suffered with extreme low back pain and the other with severe neck pain and headaches.

They were both in phase three of subluxation degeneration Both were extremely compliant with their care, and both were not getting any better.
As a matter of interest, one of the patients was significantly worse 3 to 6 months into her care. Her neck pain and headaches had intensified.
They were both questioning their progress.

Then the patients who referred the two ladies pulled me aside one day and shared that both of them were discouraged.
They wanted to stop care and were wondering what they should do and why wasn't it working?

I know you are thinking that this story was supposed to be about a miracle. Well, the first miracle is that these ladies stuck with their care and that I continued to believe that they could get better. That wasn't easy by the way!

Any of you chiropractors out there ready to bail and refer these two ladies for more drugs?

I reassured the referring patients, and then the two ladies themselves, that all healing takes time and that each adjustment builds on the last one, and that the power that made the body heals the body. The only solution was to keep going and keep up with the adjustments.

There was no second option. They were already on high doses of dangerous drugs to manage their pain.

The human body is an incredible creation of God. Two half cells unite at conception. As God breaths life into that one new cell, the DNA mingles and a human being is formed.
That one cell begins to divide, forms a rudimentary nerve system, and this nerve system orchestrates the development of the entire human body.

9 trillion cells at birth, 80 to 100 trillion cells as adults.

Perfection, organization, and adaptation.


Cells, tissues and organs working in harmony united by the nerve system.
It says in the Bible that we are miraculously knit together in our mothers womb. God didn't abandon us at birth.
He placed an incredible power in each one of us (innate intelligence) that continues to run our bodies. This power expresses itself through the nerve system.

Back to my patients. Now we are 7/8 /9 months into their care plans. I have maintained higher than expected frequency of care.
In other words, they didn't decrease the frequency of care as expected because they were not responding to care as expected.
I continue to adjust and encourage, and now I'm stepping up my prayer.
It's not that I wasn't praying before, but it seems like human nature to pray more or harder when we get to the end of ourselves.
Over the next few mornings every time I open my Bible the importance of prayer was popping off the pages.
Old Testament, the Gospels, Paul's letters, all are speaking to the importance of prayer.

So I begin to pray more.

As I enter into my practice and begin to adjust, I pray that His Holy Spirit would work through me, his humble servant, to bring healing to His people.

Yesterday one of the ladies is lined up as my first patient and she is sitting up waiting for me. She was just beaming!
She had a big smile on her face and excitedly told me that her neck pain and headaches where going away and that she is sleeping through the night.
Two or three patients later, the other lady tells me that the mobility in her low back has gotten a lot better and that she is able to walk up and down the stairs with a lot less pain.

All I could say is thank you Jesus!
Thank you not just because He heals but because He gave me the strength to continue to believe for healing and to persevere for 9 months when the easy way out would have been to stop.

Lesson learned. All healing takes time, each adjustment builds on the last, the power that made the body heals the body.
God is the ultimate source of all life and all healing.

Don't give up and don't give in.

Blessings,

Coach Yurij